I have finished my work on Friday evening. It was very interesting and informative conference but very tiring at the same time.  Next year Sweden, hopefully! 🙂
In the evening Veronika and I decided to go see a rugby game on an enormous stadium near our hotel. I have never been in a stadium that big, it can accept 55.000 people, but during our visit "only" 48.000 people were present. The game on the other hand was interesting, I guess it would be more fun if we actually new the rules. It seems like some kind of mix between football and baseball.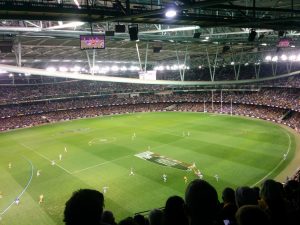 On Saturday we spent whole day on the Ocean Road and in the evening we had to prepare for our departure. I was pleasantly surprised by the city and it's citizens. Everyone was incredibly nice to us, the city is relatively clean for it's size and the architecture in the city center is nice.  I still haven't gotten used to the left side driving yet, but hopefully will soon, we are planning to rent a car later on our trip.
We left for the airport on Sunday 7 AM and arrived in Sydney at noon.
Veronika has some relatives living in Suburbs of Sydney so we are staying at theirs place. The city is enormouse, it took us over 3h to drive from the airport to their house, and we never left the city.
Yesterday we took an opportunity to explore the city, but more on this later as we are already at tge airport again, preparing to go to Cairns in the north for almost 17 days. This time we are traveling extremely light, only 2 backpacks 6kg each. Hopefully we wont freeze up there since we didn't have space for warm cOpera and Opera and bridve