To continue from where we left, third day in Cairns we went to see something that Australia is really famous for – The Great Barrier Reef.
So on Thursday early morning we went to the harbour to board a ship that will take us to the reef which was about 2h sail away. We were around 40 people on the boat and the first thing we did was a briefing about our day and a warning that we should take the motion sickens tablets if we have them (otherwise we could buy them) because the seas can be a little rough.  Half an hour later half of the boat was on the outer deck being sick. To make things worse the waves (about 3m high) made it impossible to go faster so it took as 3 hours to reach our destination. I myself managed to find a good spot behind the ship where I didn't feel full extent of the motion sickens, the downside of it was that it was outside and I was soaking wet, since the water splashed all over deck.
After reaching our destination we had another briefing about diving. I took a special package which included 2, 45min dives on the reef.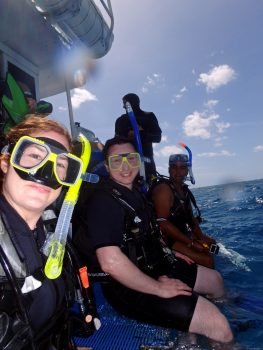 Not long after we were in the water and swimming around the reef. Despite sadly a lot of the reef was damaged by cyclone couple of days before our arrival it was still interesting to see. There were a lot of fishes, and colourful corals, sadly not to the extent as seen on google if you google it.
They say that about 80% of the reef is dead and it will take couple of decades to recover. My first impression after seeing it was quite bad, there was a lot of dead corals on the ground and not nearly as colorful as in these photos (flash does it's job here). Despite that we did see a lot of animals and fishes. We even saw a turtle and a Nemo fish.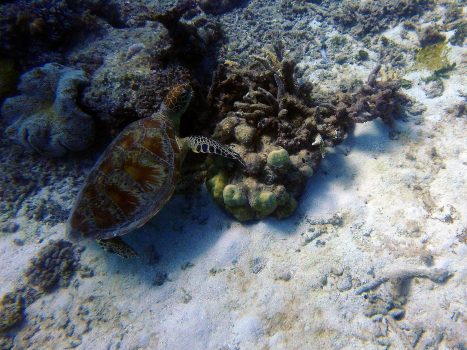 After we were done with diving we had another bumpy ride back. All in all it was a great experience (minus the boat), it is one of those things that you have to do.
After coming back we had couple of errands to do in the Cairns, before we prepared for an early departure the next day.
Speaking of Cairns, did I tell you they have this gigantic bats there? First time I saw them I was afraid Batman was after us. They had like 0.5m over the wings at least.  Secondly we saw them on a tree, sleeping during the day. It was strange, at first we thought they were some kind of chestnut, but then some of them moved and flapped their wings. Really unique experience.