Next morning (Saturday) it was time to return to Porto, but not before Jakob tried to persuade me for at least half an hour to go swimming with him. Needless to say it was cloudy,  rainy and there were 2m waves., luckily in the end he didn't do it, but it was close.
After a failed attempt at swimming and yummy breakfast on the beach we took a bus to Santiago. In short what took us 13 days to walk, we did in 8 hours with a bus, train and another bus. Well all in all with waiting for the next form of transport and moving from one bus to another it did take us whole day to get back to Porto.  Though I must say that the train ride from Santiago to Nigran (near Redondela) was really special, as we could watch the villages and fields that we encountered while walking. Now that I think about it, the hiking path follows the train line quite closely.
After arriving to Porto, at around 10pm, we only had time to walk to the closest hostel, take a shower and go to sleep. After so many days sleeping in hostels one would think you get used to them, well, not true. We actually had a talk  with Aljoša, a couple of days ago while hiking, how cool the hostels are, and that from then on we're going to try to book them more often, when travelling privately. Well the impression was from albergues, where firstly they were half empty and secondly everyone in albergue was there for the exact same reason as everyone else, what's more we actually befriended a couple of travelers so it was more like an extended group of friends. The hostel in Porto, however was the standard, soulless hostel, I imagined before. There were 18 other strangers, from all over the world who were also older than what we encountered on Camino (40+). I'm sure I must have imagined it, but it felt like everyone was looking at me (us) and I was just waiting when someone is going to try and stab us during the night. Well we survived the night, but for the next two nights I persuaded Jakob to book a private room in a guest house. It actually wasn't much more expensive than the hostel and the location was even better.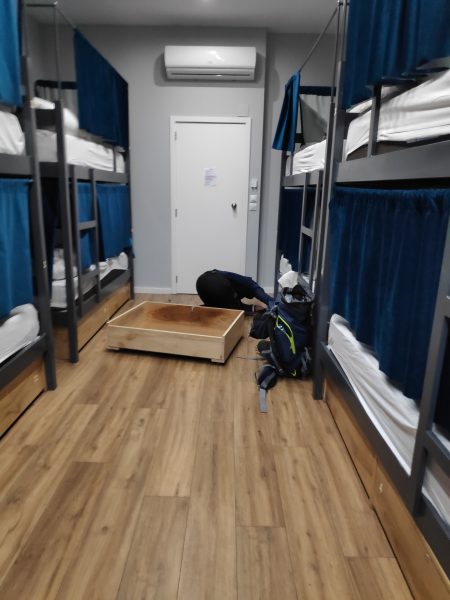 So enough about sleeping arrangements. We arrived to Porto on Saturday evening and left it on Tuesday afternoon, so we had a couple of days to explore it.  Despite being February, the city was full of tourists, the sun was shining and it was nice and warm. I've spent hours just walking through the streets, admiring the old buildings and vistas, while Jakob went to visit a couple of the museums. He bought the "tourist ticket", which grants you free entrance to some museums and galleries and some discounts in wine cellars. Although I don't think it was really worth it, from what I gathered from Jakob, he paid more for it than he would if he just paid normal entrance fees. I guess it depends on how quick you are in visiting and how many you visit.
What is Porto most known for? Well, Porto wine. If I understood correctly the grapes only ferment for a day, then they mix it with strong spirit that kills all the yeast (or something), and then age it in barrels. You can get is as cheaply as €5 on one hand, while the sky is the limit for really limited and aged ones. Jakob actually went to visit a royal wine cellar where he had a chance to try a sip of Porto wine from 1850 or something like that. For me, I'm not sure I'm such a fan of them, I really don't like the red / rose ones, I can tolerate the white ones but prefer the normal wine.
Besides wine, we also tried several local delicacies such as pasteis de nata, it's actually very good, I must have eaten a dozen of them over the days, goes well with coffee or for breakfast with juice. Its some puff pastry with egg yolk cream, if my taste buds are to be believed.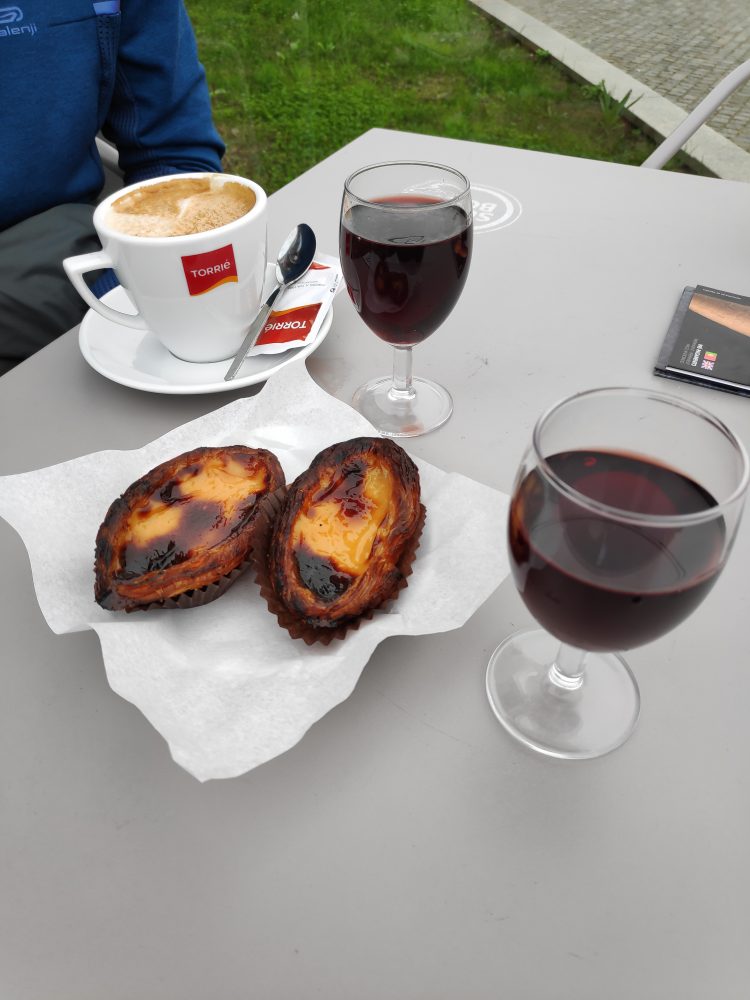 But the most interesting was the dish called francesinha. By description, you would think that this is the worst thing ever, the looks don't help either, but the taste is actually surprisingly good. So what is it? Well, it's a toast, with meat and egg, inside a spicy tomato goulash topped with french fries. I know how it sounds, but believe me, it actually is really fantastic.
Besides traditional food, we also found some really cheap fruits and vegetables, for example they were selling strawberries for less than a €1.5 per kilo, so naturally I bought a whole box of them.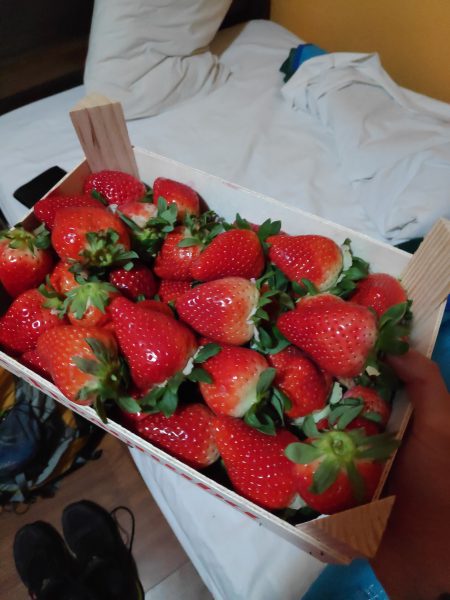 So what else did we saw in Porto, that is worth mentioning? Well, they have peacocks walking around in the parks, a big house that celebrates cans of sardines, a library that was used for shooting, or was at least inspiration, for Harry Potter movies, oh and the most interesting one, an ancient book store, something from 19th century if I remember correctly, where instead of selling books they focus on selling Porto wine and some baked potatoes things while a guy plays organs (instrument) live. Everything is absurdly extravagant, haha anyway I really recommend visiting.
Besides that you can take a gondola from the bridge to the winery, visit the beach and if you are lucky it's open. When I was there the waves were so high that the whole beach was closed for public. Me, being me, instead of taking a tourist bus to go sightseeing I just went for a long run and saw most of the city. The city as a whole is really nice, lots of interesting old buildings, lots parks, coffee shops, pastry shops and in the end lots of tourists.
After four days of exploring Porto and stuffing ourselves with their delicious food it was time to return to Slovenia. The whole trip was truly amazing, and the time (and kilometers) just flew by. I'm really hoping on doing something similar again.
We are still debating, how lucky we were with the timing. Firstly, we hit the jackpot with the weather, February is considered the rainiest month, on average it's pouring rain every day and it was up to a day before we arrived and it started again as we left, secondly we made it back just in time to escape Covid-19, as I think a week later the whole Veneto region went into quarantine.