What could go wrong?
Well, remember how I said I went to sleep, when we returned from the restaurant at about 11pm and how Jakob decided it is better to party with the rest of the guys instead?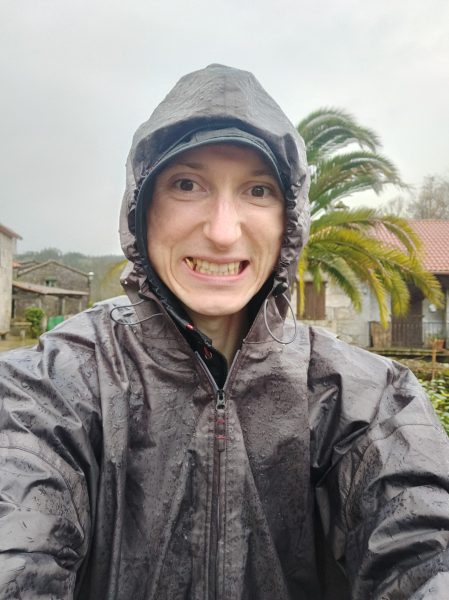 The first day we actually did 2 stages, to Negreira (~30km) and then continue to Caminos Chans  (~28km). In order to do it in time, we woke up at 5 am, ate breakfast (I finally bought some strawberries, I found in store the previous day! :D). The weather forecast was not the best, and it was pouring rain, so we improvised a bit with our shoes and were off at about 5.45am. It was completely dark and soon we were out of the Santiago, so headlamps came in really handy.
Despite bad weather, it was interchanging between pouring, light rain and even some sunny hours, I really enjoyed this leg of the race. We started going quite strong and everything was more or less fine, until we reached the first climb after about 3 hours of walking. Then it finally showed how important the sleep is. I literarily didn't know what to do, if we should turn back, continue forward or what, Jakob looked like sad pile of misery.  I still don't know how, but after an hour or two of miserly slow pace, a couple of rests and a bit larger meal he somehow pulled it together, and we were flying through the countryside again.
The path was mainly going through the forests, fields and pastures, with almost no civilization. At one point I think it took us almost 3h to get from one house till we reached the next one. This was certainly my favorite part of the Camino, at least path wise.
We calculated that we should walk at pace around 5.30/km in order to reach our destination in reasonable time, with only one longer stop (about 30 minutes) for lunch, the rest was walking or short stops for walking.  Well because of reasons mentioned before it didn't go exactly as planned, at least the first half, but we picked it up a bit on the second half. I believe it's not hard to imagine, our legs toward the end felt like cement. All in all it took us about 13 hours to finish, about 11h of pure walking. I'm still amazed how Jakob managed to do it, I mean I was dead tired at the end, had much more stamina and slept at least a couple of hours the night before. If I didn't know better, I would say it was a miracle that he made it.
The village at the end was tiny, it didn't even have a store, just a small restaurant, that actually sold some basic food ingredients like pasta, bread and tomato sauce. We were more than happy to buy it, despite costing more than double, what would in "normal" store.  But after walking whole day, the last thing we wanted to do was go sleep hungry. (Also, pasta for breakfast next day!)
The next day was a bit more reasonable, only 35 kilometers. The weather was also better, partly cloudy with no rain. First half of the path took us through some valleys and forests. At one point a dog, that was watching over some kettle joined us and walked with us for about an hour or so, it was quite fun at the beginning, but toward the end we were beginning to worry he wouldn't leave.
After about 4 hours we reached the shoreline, where we had the biggest doughnut I have ever saw. The rest of the way was alongside beach and more or less civilized areas, since I guess during summer there are a lot of tourists here. It wasn't as fun as walking through the fields, at least in this weather, and we started constantly looking how much more, how far is it. At one point, you can already see the end, but the path winds along the coast and seems to go on forever.
In the late afternoon we finally reached Fisterra! Yeey, our journey was finally over, well almost. We first checked in the albuerge, where we also got another certificate for finishing this Finisterra  part of the pilgrimage, then the only thing left was to reach the end point – the lighthouse about 4 km out of the town.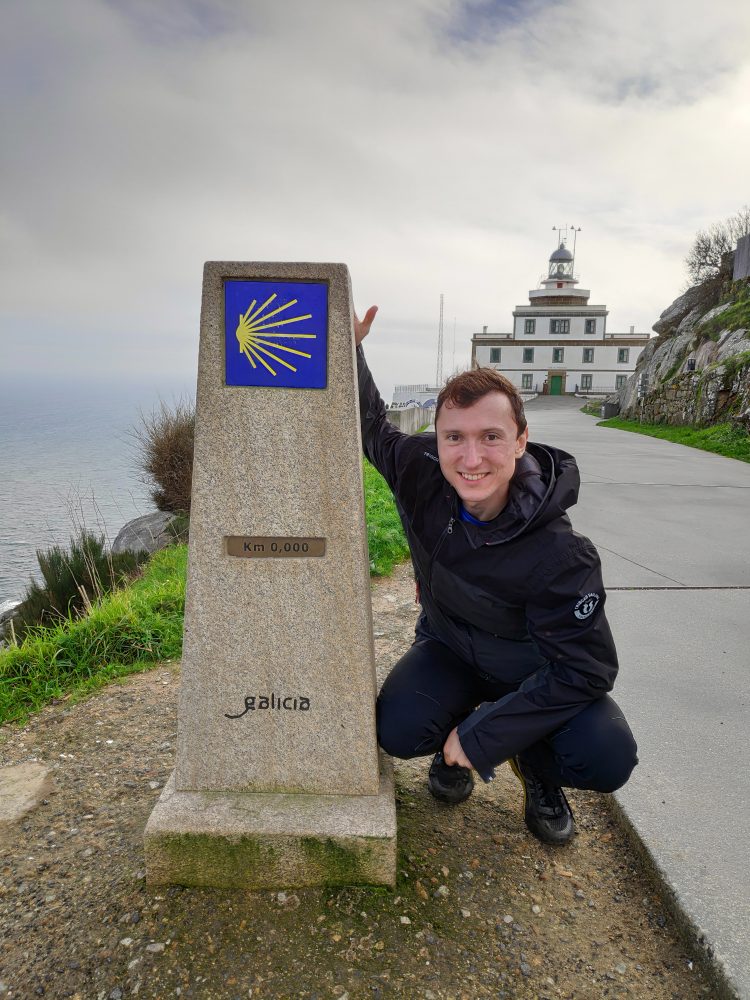 We reached it right in time, when sun was starting to set, our journey was actually over, nowhere further to go, unless we wanted to swim to America., but that is a challenge for another time.
We sat in silence at the lighthouse looking as the sun went below horizon, and thought about the journey in silence. It's hard to describe how we felt, well tired but also proud, or more than that, something deeper. The whole journey actually touches you on some deeper level,  as cheesy as it might sound.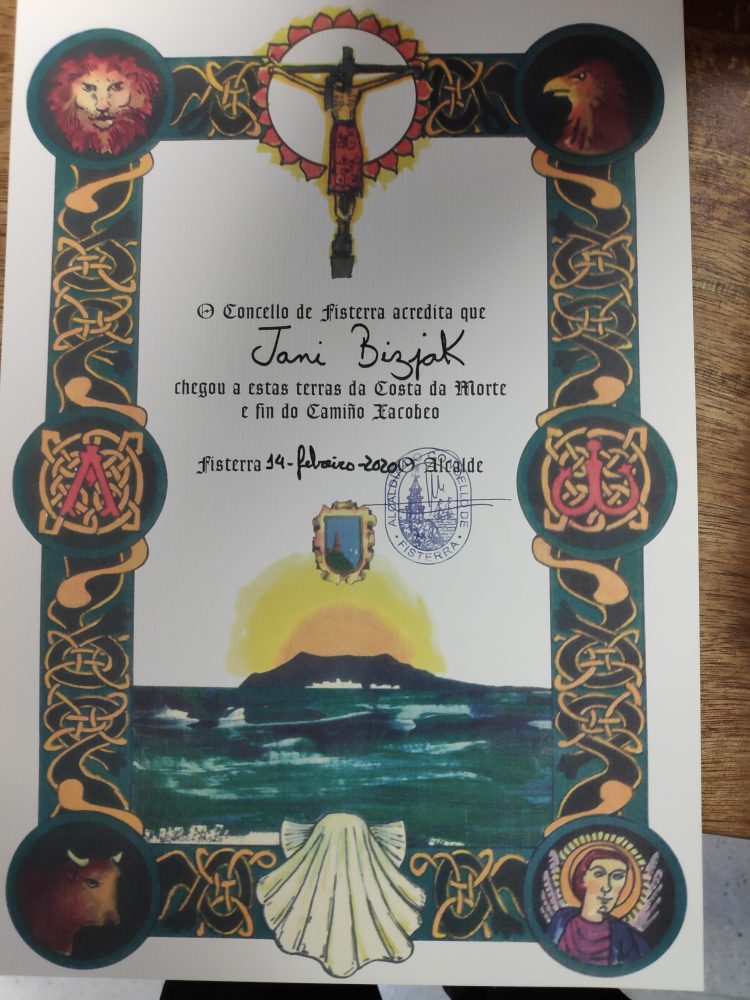 We returned to the Albergue, where we had a nice dinner. I know what you will be thinking, ah pasta again, but wait no! Since it was such a special occasion, we decided to have tortellini instead!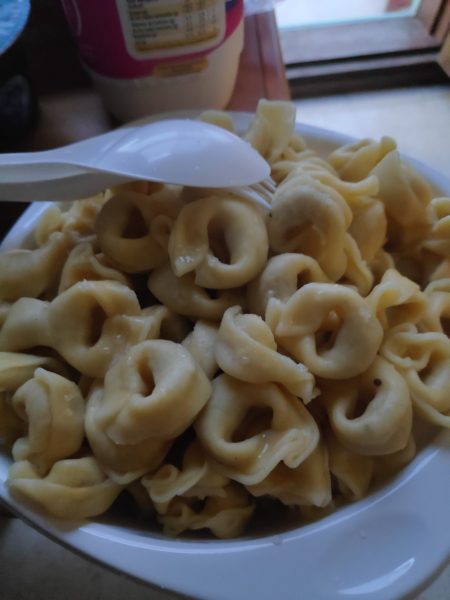 With this, our pilgrimage was over, the only thing left was to return back to Porto for couple of days and then back in Slovenia, just in time, to escape Covid-19 epidemic in Italy.