Monday morning we took an hour bus through the Brisbane's suburbs to the Lone Pines Koala Sanctuary. Despite it's name it is a normal zoo, with multiple species of Australian animals.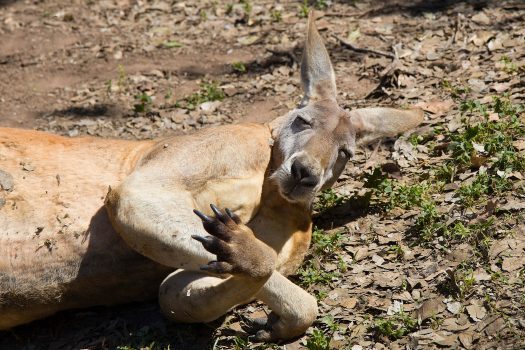 The zoo is of moderate size, maybe a bit smaller than Ljubljana's. The main difference compared to the standard zoos elsewhere is that you can actually take a photo with a koala or go and feed a kangaroo. Yea, that's right, kangaroos just roam large enclosure where you can enter or leave at your leisure. Moreover you can buy some kangaroo food for couple of $ and you can actually feed them.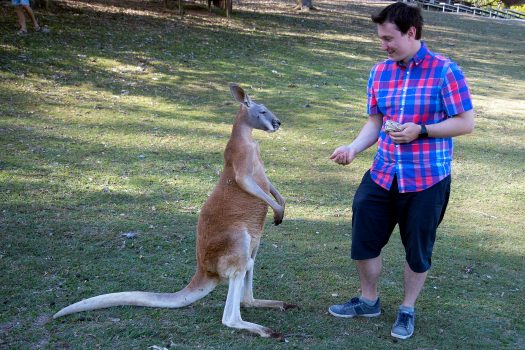 We saw variety of sizes of kangaroos ranging from a small ones to the ones you could look straight into their eyes when they were standing in front of you. Despite being very muscular and large, we felt quite safe around them. They were mostly chilling, I guess being fed by the tourists whole days long gets them super lazy.
We were pretty excited about petting them, one thing that surprised me the most was how soft their fur was. It looks rough and dirty where in reality it was silky soft (even with the big ones) almost like a puppy.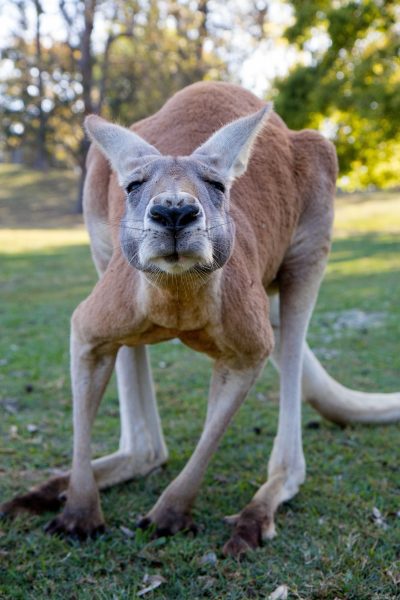 Besides kangaroos we also watched a bird show where they flew some owls and eagles around and told us about them. It was interesting to see them fly just few centimetres in front of us.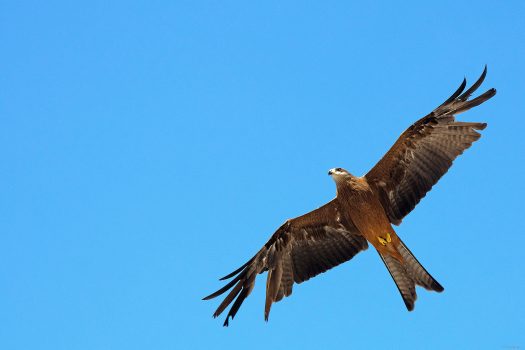 And to see an owl gulp up whole mouse in a couple of seconds.
After the birds we went to see a sheep show, where they used 3 dogs to bring a group of ship from one side of the park to the other. It was fun watching the dogs run around the sheep while bringing them home alone. They also looked like they had a lot of fun, guess it beats fetching a stick.
After the shows we took the opportunity to hold a koala and take a photo with it. Again just like with kangaroos it's fur was very soft, and it was surprisingly heavy.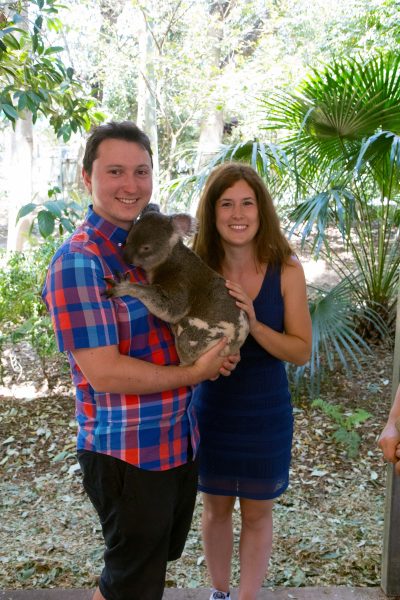 Besides holding it we also had an opportunity to watch in several enclosures around the zoo. However they are not very active animals and sleep more than 20 hours per day. Luckily we were just in time for the zookeepers to change their food (eucalyptus) which made them a bit more active as they climbed around to get to the food.
All over the zoo we saw hundreds of large lizards. For some reason they weren't enclosed but were freely running around the paths trying to find some sun rays.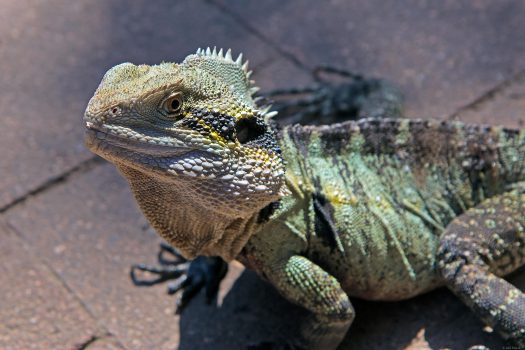 Again we saw some dingoes, they were just remodelling their enclosure so they were in a smaller one but still seemed pretty happy. I think they were quite tamed and used to people. I think I saw some zookeepers walking one just like a dog.
So far most of the animals we saw we also saw in nature, or at least their close relatives. They did however have a couple of animals that are a bit more exotic that we didn't see before.
And we also saw the strangest of all the animals – the platypus.
All in all we had a great day. We spent most of the time among kangaroos which were most fun to interact with and saw a couple of quite exotic animals for an European. However just next day we had a plan to visit something we knew since day one of our planning we will visit (hint: another zoo).
Some more photos from the zoo.