I have been thinking about going on an adventure, go somewhere and don't plan the whole trip well in advance. See how you feel each day and find hostel/hotel in the city you are at the end of the day.
Luckily such an opportunity presented to me at the beginning of January, when two friends, Jakob and Aljoša asked me if I want to join them on their hike – the famous Camino de Santiago – Portugal edition.  Everything happened so suddenly, after three days we already bought plane tickets and in two weeks, we were off to Porto, Portugal. I have never done anything so spontaneously like this before, but I was really excited about it. To me, it felt like the perfect thing to do, a new experience, a new me, journey to my 4th decade. As it happened, I have turned 30 on the day of our departure.
The last days before the departure were a bit frantic. We were all scrambling to buy the last of the supplies, we thought we would need. Some waterproof  water-resistant pants, rain jackets, this and that, the list goes on. The hard part was balancing what is really needed and should be brought with us and what we could live without. In the end, I ended up with full to bursting 30l backpack, the majority of space was taken by the sleeping bag. In total, I took with me 4 underpants, 3 pairs of socks, 1 running pants, 1 hiking (water-resisting) pants (which I wore most of the time), 3 long and 3 short sports shirts, quick dry towel, chargers, kindle, headphones and a bit of food for the first day of walking – Sunday, since we expected the stores would be closed. In retrospect, I think I could also manage with 2 pairs of underpants, but in total, I don't think I brought much more than I needed. I don't think there was an item in the pack I didn't use – if I don't count the first aid kit.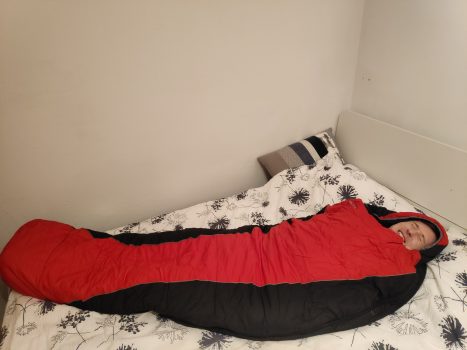 The 1st of February came soon enough, and I barely manage to have a nice meal with my parents and a piece of cake. This year, I made it myself, wanted to experiment a bit with red velvet cake with lemon filling, it turned out quite ok, but next time, I really need to go back to my favorite type of cakes – fruit cakes. It was nice chatting with my parents, they bought me a new Garmin watch, and I was truly happy about it. I've been doing much more sports lately, and the FitBit Charge 3, I had for the last year just didn't cut it anymore.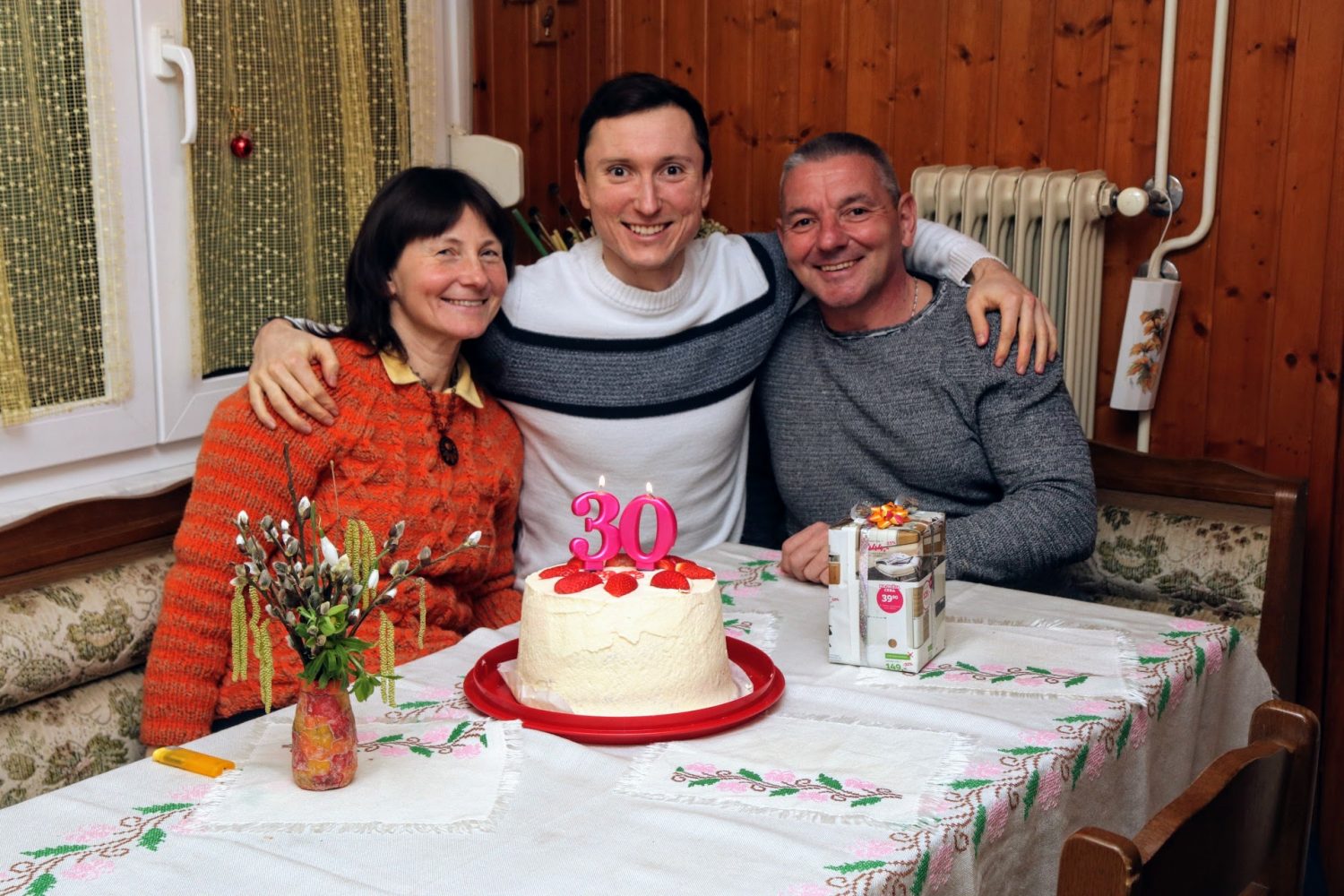 So on Saturday afternoon, my ride was ready, I picked up my backpack, boarded GoOpti (popular shuttle service in Slovenia) and I was on my way to the adventure of my life. Because of the birthday(s) (fun fact, Jakob also has a birthday on the same day as I do) we decided that we were going to meet at the airport, since we wanted to spend some time with our families, on our birthdays.
We arrived at  Treviso airport in the early evening, went through the security and were excitedly waiting to board our plane. Our first destination was Porto, Portugal, from where we would start our journey and hike around 240 km, to Santiago de Compostela, Spain. We were planning to do it in roughly 10 days, and if weather would permit, we would continue to the Finistère at the Atlantic coast, about 90 km from Santiago.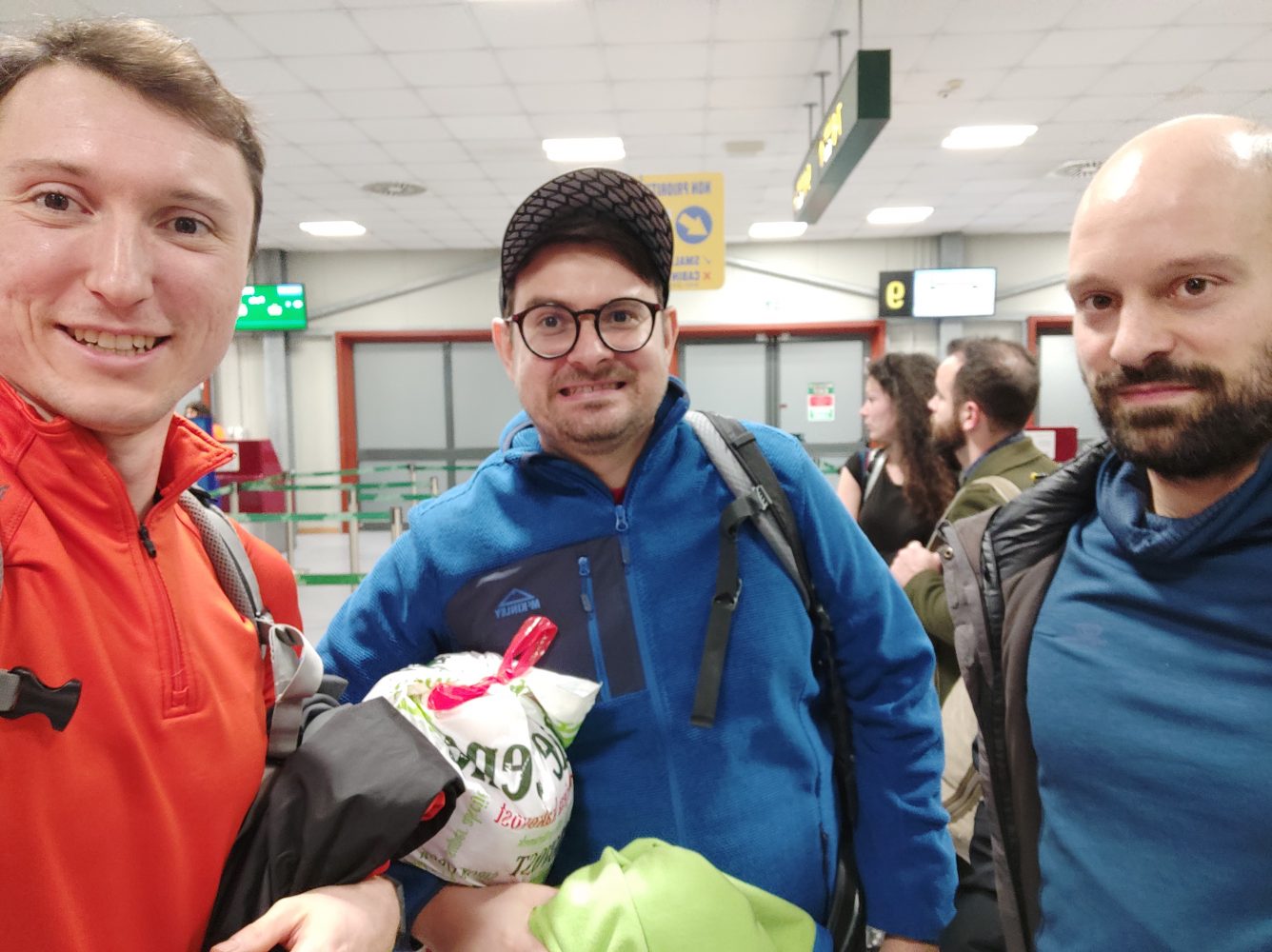 Waiting at the airport went by quickly in the good company and soon we were in the air, the adventure awaited us. But not before extending our birthday, for 1 more hour (yes, Portugal is in UTC+0 time zone).